Taito ward's traditional crafts,
an inherited heart of Edo
Tradition to be inherited
An inherited heart of Edo
Taito ward flourished as a common people's town and the birthplace of Edo culture with vestiges of Edo period historical sites and culture such as Edo period Buddhist shrines and temples.
Edo Taito Traditional Crafts Center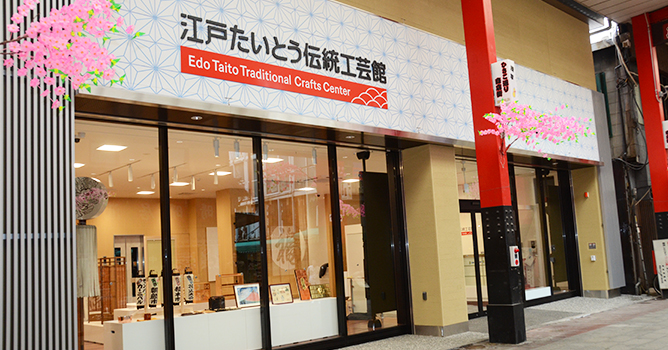 Already in the Edo period (17th to mid 19th centuries), Taito thrived as a city of commons, who created much of the Edo culture. Today, Taito-ku (the City of Taito) still is home to numerous historic sites, such as Shinto shrines and Buddhist temples dating back to the period, and many more. The City also accommodates commons who are dashing and stylish following the aesthetics of Edo commons and nurtures Traditional Crafts developed by craftspeople over the past centuries. "Edo Taito Traditional Crafts Center" is where you can experience and appreciate treasures of Traditional Crafts of the Shitamachi (lower city) area of Edo, created and developed by generations of craftspeople who worked in the area's history and culture. The Museum is intended to stimulate your interest in and appreciation of those Traditional Crafts. In addition, the Museum hopes you will cherish some of such crafts in your everyday life.