Hikaku Kogei [ Leatherworking ]
Okubo Kunio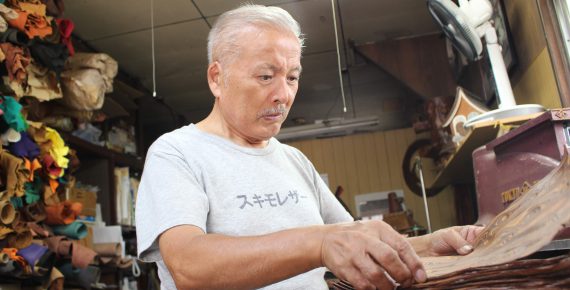 Mr. Kunio Okubo of Okubo Shoten is a leather craftsman.
He developed beautiful leather designs called "sukimo leather", and many craftsmen use sukimo leather to create new products.

Sukimo leather is characterized by a pattern that makes use of the many colors of leather and was originally developed and patented by the leather craftsman, Mr. Okubo.
In the manufacturing process of sukimo leather, the leather is first tanned to make various colors.
Next, dozens of pieces of the leather are stacked, glued together, and then rolled.
You can create various patterns depending on the combination of colors, how you paste them, and how they are made.
Mr. Okubo said that he succeeded his father who was a leather manufacturing craftsman and became a leather craftsman himself.
The main work of leather manufacturing in those days was to make the inside heel of leather shoes.
As for sukimo leather, Mr. Okubo stated, "Even though he was a very good craftsman, not many people talked about him after his death," so 'no matter how good a craftsman is at making something, if it is not seen it will be forgotten', and from that point on I came to strongly think that 'I want to create something that can only be done by myself as a craftsman'.
The trigger for development was when he saw a work that was piled layers of leather and sculpted with a chisel.
A lot of leather was used, but Mr. Okubo, a leather craftsman, started making it while thinking that "it could be done with less sheets".
In the meantime, he thought that it was possible to make patterned leather by combining leathers of various colors.
Sukimo leather making begins with the leather dyeing process, considering the pattern that you want to express.
Since he is particular about the color to be dyed, he does all the dyeing work alone.
Once the leather is dyed, he repeatedly tries it over and over, many times of trial and error.
"I am very happy when I get a satisfactory pattern because I have to do a lot of work to create it," says Mr. Okubo.
Sukimo leather is complicated and it is very difficult to create certain patterns, so they do not take custom orders, you simply have to choose from the patterns that have already been completed.
"It's also fun to see the craftsmen who buy sukimo leather to create their own new works," says Mr. Okubo.
Okubo Shoten
Address: 1-5-4 Kiyokawa, Taito Ward
TEL:03-3872-0181
Business hours: 9:00am – 5:00pm
Regular holidays: Saturday, Sunday, public holidays
(We may be closed even on weekdays, so please email us in advance if you are coming to the shop)
E-mail:okubo-shouten@nifty.com