Suzuri [ Inkstones ]
Aoyagi Takashi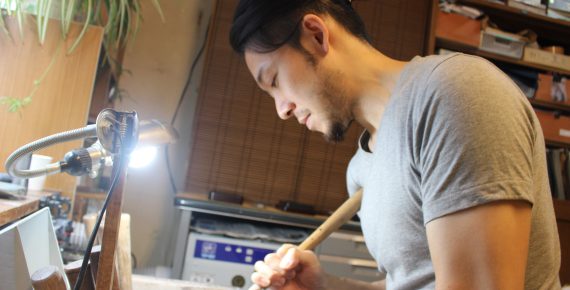 Mr. Takashi Aoyagi is a seikenshi who can make a wide range of instones using traditional Chinese and Japanese methods.
The reason he became a craftsman is because his beloved grandfather on his father's side was an inkstone craftsman so he has been playing in the studio from a young age.
The origin of the inkstone (suzuri) came about more than 4,000 years ago during the Paleolithic era, but it is said that its current shape came from the late Tang Dynasty (618-907) in China.
Among the "writing utensils, inkstones, and paper" necessary for politicians, calligraphers, and other powerful people, inkstones where like family heirlooms. There was also a culture of ornamental inkstones so beautiful stones were sought after and the originality and beauty of its shape made it a work of art. This type of Chinese inkstone is called "token".
On the other hand, the inkstone culture came to Japan from China and the inkstones developed in Japan are called "waken". In Japan, there is also a culture of storing brushes and inkstones in boxes so the public did not have a chance to see them, and practicality was emphasized.
Mr. Aoyagi produces a wide range of inkstones using traditional Chinese and Japanese methods. General inkstone artisans settle where the stones are produced and makes each inkstone to match the mined stone.
Mr. Aoyagi's workshop has accumulated recipes on how to make inkstones since his grandfather's time, so if you examine the condition of the stone and its environment, you can even reproduce an inkstone from 1800 years ago.
In the past he also reproduced the inkstone that Natsume Soseki used to use and it was like he became an inkstone craftsman of that time. Not only did he want to copy the outline, he wanted to make an inkstone that Soseki would desire.
As a result of the decrease in the production of inkstones and the miners involved, the opportunities to examine and mine the stones on your own has increased over the past 10 years. "I have a scholar's spirit, so I pick up the stones from the mountain with my own hands, feel a clarity and want to make the inkstones," says Mr. Aoyagi.
In addition, Mr. Aoyagi teaches the history, works, and culture of Japanese and Chinese inkstones in the calligraphy department of the university. Through this class he focuses on the fact that Hokkaido does not have any inkstone culture, cooperates with the local government in Hokkaido to acquire stones from the mining areas, and produces inkstones from them.
"In the modern world, writing and paining are being separated and many people in the caligraphy world just use inkstones to grind ink so fewer people are interested in the actual inkstones. Due to this we are also trying new things to get more people interested in inkstones by making them with unusual stones such as meteorites," says Mr. Aoyagi.
houkendo Co., Ltd. (in the inkstone workshop)
Address: 4-1-11 Kotobuki, Taito Ward
TEL: 03-3844-2976
Business hours: Monday – Saturday / 9:00am – 6:00pm
1st and 3rd Sunday / 10:00am – 5:00pm
※ First floor calligraphy shop opening hours
Regular holidays: 2nd, 4th, and 5th Sundays and public holidays
※ First floor calligraphy shop opening hours