The trial lesson of making
Edo cut Kiriko glass
Kiriko workshop Asakusa Ojima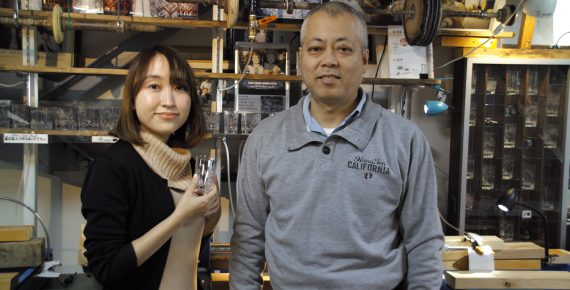 I took a trial lesson of making a Kiriko at 'Kiriko workshop Asakusa Ojima'.
'Edo Kiriko Asakusa Ojima' is founded in 1960 and Mr. Ojima Eiji who is third generation of this shop told me how to make it.
At first, an explanation of a diamond wheel to shave a glass.
We will use a wide wheel to shave round and wide surface or a thin wheel to shave a line at a trial lesson.
After an explanation, draw a rough sketch with a permanent marker on the glass.
I draw the plum tree and the leaf of cherryblossom!
After that, shave a part of the leaf of plum with a wide wheel. It becomes whiter because the rough sketch is coming off with the glass. It is difficult to shave it round.
Mr. Ojima will show me an example if you do not know.
He shows me a craftsmanship that is shaving the fruit and the vine of grape quickly using the other glass.
After shaving the leaf, move on to a thin wheel stand for shaving the branch of plum tree.
It is difficult to shave straightly because I need to shave it while turning glass. I could finish it somehow.
It's all done after wiping off the rough sketch!
The right one is the before shaving and the left is the complete one.
I had a fun and it was a good experience! I will give it to my mother for her birthday.
I hope she will like it.
They also have beautiful Edo Kiriko for sale!
Thank you very much, Mr. Ojima!
A trial lesson fee 4,500yen (without tax)
Kiriko Kobo Asakusa Ojima
Asakusa Ojima 4-49-7 Asakusa, Taito-ku
TEL:03-4285-9664/FAX:03-3875-6771
Regular holiday:No scheduled holidays