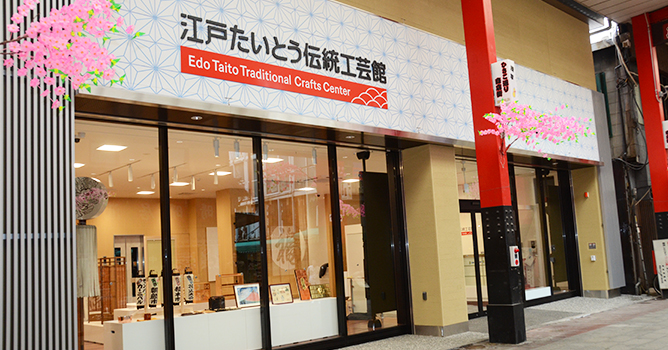 Starting with Senso-ji Temple in Asakusa and kanei-ji Temple in Ueno, the current Taito-ku, which has been in full swing as a temple town, has reorganized the city area of Edo, and many craftsmen began to gather here. Asakusa flourished as a premiere place together with Okuyama in Senso-ji Temple in Edo by moving Yuri "Yoshihara", Kabuki and the theater of the Japanese puppet show to Asakusa. The supply of manpower and goods has increased and skills of craftsmen have come to be required in various situations. Under such historical background, many craftsmen gathers in Taito-ku and they inherits traditional technique until now and continues activities.
The Edo Taito Traditional Craft Center has been reopened in March 2019 with a large display and an on-site exhibition commentary compatible with a smartphone, so that traditional crafts can be widely introduced to more people in Japan and abroad. We regularly display about 250 items in about 48 industries, including Edo Sudare, Tokyo Kiri Tansu and Edo Sashimono.


Meet "business trip! Takumi Workshop"
Traditional craftsmen are present every week on Saturdays and Sundays, where you can watch the work closely and enjoy conversations with the craftsmen.
Learn "Special Exhibition"
We introduce in detail about the industry and perform exhibition along theme. You can see the manufacturing process of crafts, materials and real tools, etc used by craftsman.
Make "Experience! Takumi Workshop"
Instructed from craftsmen and you can make crafts. You can experience the skill of craftsman that you do not understand just by looking at it.
Use "Auction"
Sell some of the exhibits. You can bid the amount of money during the exhibition period, and a person who bit highest price can purchase it.