Glass Pens
Rachi Yoshihiro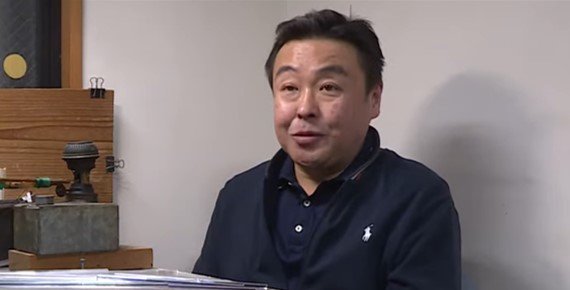 Yoshihiro Rachi is the third-generation head of Sase Kogyosho, a long-established glass pen manufacturer established in 1912.
Mr. Rachi worked as a system engineer, but after getting married, he took the chance and jumped straight into the world of crafts.
He learned the skills and inherited the workshop of his father-in-law, the late Isamu Sase, and carries on the tradition of carefully crafting the glass pens, one by one.
Glass pens, now widely loved around the world, actually originate in Japan. They were first developed in 1902 by Sadajiro Sasaki, a wind bell craftsman. Sase Kogyosho was established in Taito City, Tokyo in 1912 by a couple who had trained under Mr. Sasaki, and is now the only workshop that inherits the skills of the original artisan, the father of glass pens.
My father-in-law always told me to "steal the technique by seeing it for yourself," so it was very difficult for me to learn, says Mr. Rachi.
The most difficult part of making a glass pen is to determine the center of the nib and leave eight grooves all the way to the tip.
At the narrowest point, the nib is as thin as a hair, and if the grooves do not remain in place, the pen cannot be used as a writing instrument. It is said to take about ten years to master the processing technique of the pen nib.
The charm of glass pens isn't only the beauty but also the fact that they are extremely practical.
In particular, they are great for writing! You can write in any direction, push or pull the ink out, so there is no need to get used to writing with a fountain pen, and even left-handed people can easily write with them.
Also, the ink can be easily removed by simply washing the nib with water, so you can easily change the color in the middle of a letter and enjoy a variety of inks with one pen.
Moreover, thanks to the capillary phenomenon, once the ink is applied to the pen, the eight grooves in the nib allow the pen to store a large amount of ink. In other words, you can easily write a postcard without running out of ink!
Mr. Rachi believes that as the digitalization of society continues, there is a certain value in expressing your feelings by handwriting. And when doing that, he hopes that you will use the glass pen, a tool originating in his home country of Japan.
short version(1min20sec.)
long version(7min2sec.)
If you would like to know more about the craft history, manufacturing process, tools, etc., please check this movie.
Sase Industrial
Address: 2-29-8 Iriya, Taito-ku, Tokyo
TEL: 03-3873-1564