Kanban Chokoku [ Signboard engraving ]
Sakai Tomoo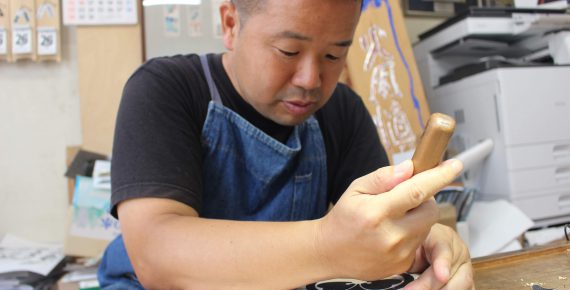 Mr. Tomoo Sakai is a signboard engraver and is the fourth generation owner of the Fukuzendo Sakai Kanban Shop.
He currently runs the Fukusendo Sakai Kanban Shop with his predecessor, Mr. Yasuyuki.

Signboard engravings are usually colored letters and patterns that are carved into wooden boards such as keyaki (Japanese zelkova) and hinoki (hinoki cypress).
The first part of the process is to have the writer write the letters on the signboard. The letters are enlarged and printed according to the size of the sighboard, pasted onto a wooden base, and carved so that the edges of the letters and patterns are round and gentle.
Next is to paint the base, fill in the grains of the wood to make it flat, and then repeatedly polish it with water-proof paper 3 times to make it glossy.
Mr. Sakai became a craftsman immediately after graduating from college. He had thought of pursuing other professions, but his grandmother told him to "succeed the family business" from an early age, so he eventually chose to become a craftsman.
"The work that has left a big impression so far is the signboard I made for a confectioner named Miharado in front of Suitengu. It was a huge board, measuring 4m x 80cm.
I am impressed to see how the signboard I worked so hard on being displayed in such a prominent place in the shop," says Mr. Sakai.
People tend to have an image of wooden signboards as only being used for shops, but recently they are also popular as congratulatory signs for weddings and new constructions.
Since these wooden signs look better with age, they can age well with the people who received them as gifts.
In addition to letters, you can also put pictures and patterns on the signboard, as well as make it in a Western-style.
"It's difficult for the general public to experience making it themselves because signboard engraving requires chiseling the wood yourself, but it is possible to observe how it is made. There are many foreign tourists who come to visit and want to take photos," says Sakai.

Short ver.

Long ver.
(If you would like to know more about the craft history, manufacturing process, tools, etc., please check this movie.)
Fukuzendo Sakai Kanban Shop
Address: 3-4-1 Matsugaya, Taito-ku
TEL: 03-3481-5801