Edo Brushes・Tokyo handmade brush
work shop
Miyakawa Hake Brush
Manufacturing Co.,Ltd.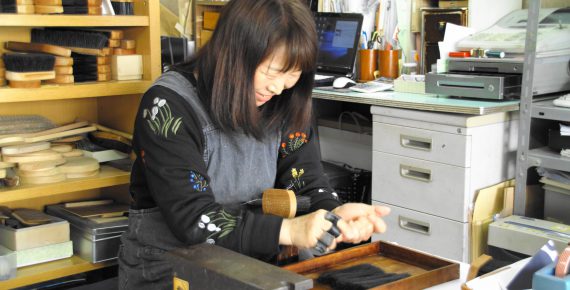 I visited Miyakawa brush workshop which is founded in 1920.
Today, they explain about a woodcut brush when printing. This is used for mixing and spread colors evenly on the plate.
Ms. Miyakawa Kumiko who is third generation of here will teach me.
At first, set a mold on the table and mark with the ink.
This is for piercing a hole for planting hair.
Usually observation will be started from after piercing, but she shows me specially!
Ordinary, make a waterproof after piercing, but this process is passed on the observation. It will take one or two days to dry if it wasn't make waterproof.
The picture on the front is what after coating and dark color has been proceed waterproof.
Ms. Tsuyako who is her mother and also an excellence technician in Taito-ku will plant hair!
Grab proper quantity of horse hair and plant it through the stainless steel wires. Ms. Kumiko is no match for her mother in accuracy and speed.
She is planting with her sensation of long experience. The feeling will be different if it's not get into inside or having little hair or too much. It is just master craftsmanship!
This is a brush after finishing planting.
Without planting will be her in charge. Make its wire of back flat and hide and cover it with glue and small nail.
At last, finish it with trimming. We can compare before and after at observation.
The Miyakawa family is taking good care of old tools.
The box to put tools like nails or wires are used from their predecessor. Ms. Kumiko use them regularly from her childhood.
This is the best space for 'Tool lover' just like me.
There is the one which is customized by craftsman of neighbor inside.
The box sounds like a tray to put brushes is the lacquered craftsman painted to a wood box which had noodles.
Ms. Miyakawa is craftsman of making brushes for other craftsman like Edo woodcut or Edo lacquerware not only common brushes for shoes or clothes.
You can see a craftsmanship is trust by pro at Miyakawa brush workshop.
Many arts university student who is studying woodcut visit here!
Accept less than ten peoples and high school students or older.
Ms. Miyakawa, thank you very much!
Miyakawa Hake Brush Manufacturing Co.,Ltd.
2-10-14 Motoasakusa, Taitō-ku
TEL:03-3844-5025 /FAX:03-3841-9343
Regular holiday:Sunday
*Saturday and holidays are irregular holidays