Visit to "Edo Taito Traditional Crafts Center" in Asakusa, Taito City, Tokyo ( How to get it? )
20190916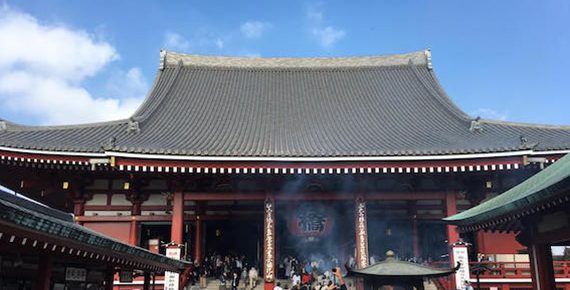 Anyone who's ever been to Tokyo will probably tell you that Asakusa, located in Taito City in Tokyo, is one of the places you have to visit. It's most famous for Senso-ji, a temple built in the 7th century, and a variety of lively festivals.
But did you know that Taito City is also blessed as the home of traditional Edo culture?
You've probably seen a wide range of traditional Japanese handicrafts on the Internet or while travelling around Japan.
Here in Taito City you have the opportunity to see many pieces up close and learn more about them as well as interact with the craftsmen who spend their lives creating such beautiful masterpieces.
Take a trip to the past at the Edo Taito Traditional Crafts Center and discover unique handicrafts made by local craftsmen.
If you want to get to the Edo Taito Traditional Crafts Center from Ueno Station just follow the signs along the corridors towards Iriya Exit.
At the bottom of the stairs, exit the station and turn left where you'll find a small sign for Taito City's Circular Route Bus "Megurin".
There are five bus lines throughout Taito City and two of them can be found at Ueno-eki-Iriyaguchi stop, the North-South (blue) line and the East-West (burgundy) line.
The sign number refers to the stop not the bus line so be careful when you get on the bus.
The East-West (burgundy) line stop #22 will take you to Asakusa the quickest (approx.30 mins), though it's also possible to get there using the other line it will take a significant amount of time.
The bus costs only 100 yen (pay when you get on at the front of the bus) and there's a signboard located at the front near the driver which displays the stop numbers and place names in Japanese and English so you don't have to worry about getting lost.
Get off at stop #27 Kaminarimon-dori and follow the road up to Kaminarimon ("Thunder Gate"), a world famous photo-spot.
Pass through the gate and you'll find yourself surrounded by souvenir and food stalls leading up to Senso-ji.
Once you've had your fill of the hustle and bustle carry on through the side streets to the quieter area of Asakusa.
Tucked away along one of the side streets to Hisago-dori shopping street about 5 minutes walk from Senso-ji,you'll see the vivid red signs of the newly reopened Edo Taito Traditional Crafts Center.
Address:22-13, Asakusa 2-chome, Taito-ku, Tokyo
Tel:03-3842-1990
Business hour:10:00am-6:00pm
Regular holiday: every 2nd and 4th Tuesday
※When the day concerned is a holiday, the next day
※There is change of opening day, opening time by circumstances
Traffic access:
· 2 min. walk from Toei bus "Oku Asakusa"
· 5 min. walk from Tsukuba Express Line "Asakusa Station"
· 15 min. walk from Toei Subway Asakusa Line, Tokyo Metro Ginza Line, Tobu Line "Asakusa Station"
· 5 min. walk from East and West Megurin bus "Tsukuba Express Asakusa Station"
· 12 min. walk from South Megurin bus "Asakusa Kikusui Street"