Edo Tegaki Chochin [ Hand-Painted Paper Lanterns ]
Sakurai Yuuko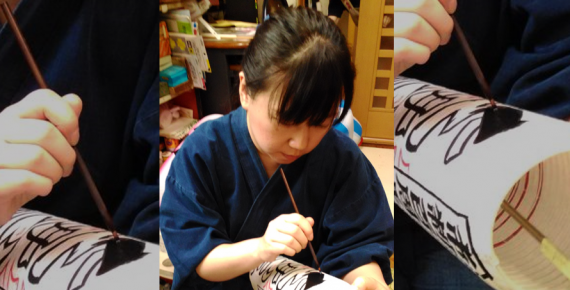 Ms. Yuko Sakurai is a craftswoman of the Edo hand-drawn lanterns, and belongs to the fourth generation of "Hanato".
Originally she liked manufacturing, "I want to do something that only me can make", growing up watching her grandfather and father produce hand-drawn lanterns and decided to also follow this path when entering university. Going to Ibaraki / Mito to practice on how to become a craftswoman.
The Edo hand-drawn lantern has a division of labor, between the production of lanterns and the writing of lanterns. Sakurai is part of the drawing of lanterns part, which are "hand drawn", and in addition to that, we also do retailing of Edo hand-drawn lanterns. When putting letters in the lantern purchased from the wholesaler, and oiling it, I will draw oil and finish it.
Edo hand-drawn lanterns are mainly used in celebrations such as wedding ceremonies, baby gifts, birthday celebrations, celebrations of Kisui and rice bran. In addition to that, it is also used as a signs for shops, and the order that Sakurai has been receiving has been increasing in the recent years. Especially during the summer where there are many festivals, especially in rural areas, becoming a busy season, orders come from all over Japan. "Edo hand-drawn lantern craftworks are decreasing, but unless Japan's festivals and customs do not go away, demand for lanterns will not go away," says Sakurai.
In addition to old familiar customers, there are many customers who hear about her from their peers or online. Many of the pieces are hand-painted, and many of them are hand-painted, a customer said "Sakurai makes good communication with customers and cherishes customer's wishes."
Hideo's work is also exhibited at the Shimomachi Traditional Crafts Museum near the workshop, and it seems that foreigners who see it may also come to see the workshop.
Hanatoh
2-25-6 Asakusa, Taitō-ku
TEL:03-3841-6411
Regular holiday:tuesday
*closed on the 2nd Wednesday from September to February every year.
※For inquiries Japanese only