Tokyo Ginki [ Silverware ]
Kamikawa Yoshitsugu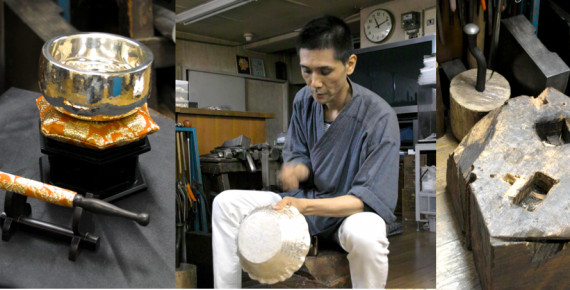 Yoshitsugu Kamikawa is a craftsman with the title of "Shiroganeshi (Silver Master)" who produces Tokyo silverware. The silver is processed into various pieces of work such as bowls, ornaments, accessories, etc. First, the silver is hammered to create a "forging metal", and then attaches patterns using specialized hammers to create things like a round hammered pattern, mat-like pattern, rough stone pattern, etc., and there is also a way of attaching patterns by using a carving technique with a graver, to create "carved metals".
Kamikawa was born in a house with silverware making as the family business, so he was accustomed to this industry from his childhood, but Kamikawa thought that going outside and learning about society is also necessary, so he joined a major metal manufacture company. He was assigned to a metal processing department, and after that he was transfered to the general affairs department and human resources department. He retired so that he could help take care of his mother's health problems, he thought that he wanted to be a craftsman and engage with customers, so then he became a silver craftsman at the Nishin Metal in his parents' house. Mr. Kamikawa said that the experiences he got from working at the company was useful for the family business.
Speaking of the greatest feature of silverware, its beauty, of course, but the fact that it's being able to use the wares for a long time, if properly taken care of.
Kamikawa says, "'useful beauty' (is practical and beautiful) in the Japan's traditional crafting. In the west, 'useful' (practical goods) and 'beauty' were thought as separate matters. This culture difference, is starting to have a new look, not only in foreign countries, but also among generations that have not used crafts on a daily basis."
In Nishin Metal, you can also have a workshop experience, where you can create your own silver made bookmark, ring, large-sized cup and so on. Recently, Kamikawa feels that there has been an increasing number of women willing to make such pieces of work. He said that when people come to the workshop experience, many times they are surprised at, "How professional made is so different!"
"I will be happy if you get to know the real piece of work through the experience and make you feel that traditional crafts are so familiar to us," says Kamikawa.

short version(1min33sec)

long version
If you would like to know more about the craft history, manufacturing process, tools, etc., please check this movie.(9min2sec.)
Nisshin Kikinzoku Company Limited
1-3-13 Misuji, Taitō-ku
09:00~18:00
TEL:03-5687-5585
Regular holiday:Sunday, Holidays
※For inquiries Japanese only