Tokyo Ginki [ Silverware ]
Kamikawa Kazuo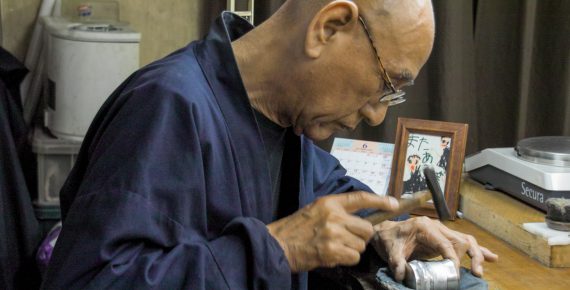 Kazuo Kamikawa of Nishin Metal is a craftsman with the title of "Shiroganeshi" (silver master) who makes Tokyo Silverware, with over 50 years of experience. In 2014 he was awarded the Yellow Ribbon Medal. His father is Sōshō Kamikawa, and spent his days trained by his father, but the father died young in 1977, then he succeeded to the name of Sōshō Kamikawa as the second generation.
Silverware has many orders including use as souvenirs or daily necessities, but it's best feature is that it will not break, if you take of care it well. This is a craft that you will continue to be able to use for hundreds of years. If you use it on a daily basis, it shall keeps its clean condition, and when you do not use it for a while, wash and wrap it in plastic wrap to prevent sulfurization, so it will not turn black easily.
In the 1960s when golf was booming, there were many requests for making the winning cup, but after the second oil shock in 1979 the request became less and the request for semiconductors industrial products became popular, instead. However, since many major companies moved it's production to overseas, the demand decreased. Orin (Singing Bowl), one of Buddhist altar fittings was sell like hot cakes at the time of Japan's "Bubble Economy" in the 1990s.
In the past, the work on silverware making was divided into a couple of divisions, but since the craftsmen decreased so rapidly, over the past 10 years, the process is now done by one person, and formerly there was a clerk that did the selling and promoting the goodness of the goods, but currently Kamikawa himself is in charge of that also. It takes time to learn the technique of silverware making and it also costs money to purchase all the necessary machines, thus the number of successors and craftsmen are decreasing. Furthermore, the current situation is that craftsmen who make tools for silverware making are also decreasing due to becoming old, retiring, and other causes. Meanwhile, Nishin Metal also handles workshops such as creating a silver made bookmark, ring, or a large-sized cup, to generate more interest in Japan's manufacturing through the traditional crafts of "Tokyo Silverware" (reservation required for workshops, for a duration of 1-3 hours). In addition, you can also visit the workshop for about 30 minutes.

short version(1min33sec.)

long version
If you would like to know more about the craft history, manufacturing process, tools, etc., please check this movie.(9min2sec.)
Nisshin Kikinzoku Company Limited
Ito Bldg.1F, 1-3-13, Misuji, Taito-ku
09:00~18:00
TEL:03-5687-5585
Regular holiday:Sunday, Holidays
※For inquiries Japanese only