Visit to "Edo Taito Traditional Crafts Center" in Asakusa, Taito City, Tokyo (2/2)
20190916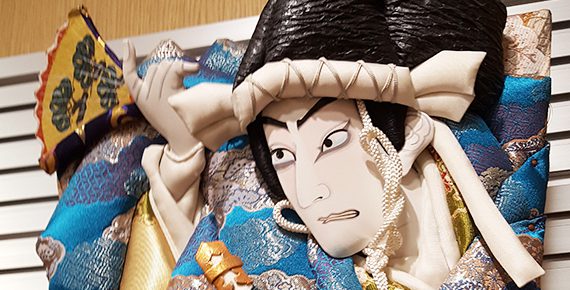 "Edo Taito Traditional Crafts Center" opens most days from 10am to 6pm and offer free admission.
(Please check the website, Instagram, or Facebook page for more information.)
https://craft.city.taito.lg.jp/en/kogeikan/
*Closed on the 2nd and 4th Tue.of each month(the following day instead if Tue. is a nat'l holiday);hours and business holidays are subject to change.

The reception/gift shop is located on the 1st floor along with permanent and special exhibitions.
You'll also find touch panel screens displaying information about Taito City and an ongoing video showing the manufacturing process and history of traditional crafts.
When you climb the stairs you'll come face to face with a large panel showing many of the local craftsmen who are affiliated with the center in order to share their beloved handicrafts with people from all over the world.
There is an elevator and stairs so you can visit here with a wheelchair and stroller.
Many glass cases line the walls displaying various handicrafts such as Silverware, Copperware, Woodblock Prints, Cut Glassware, and so much more.
Included in the cases are QR codes providing information for smartphone users in Japanese, English, Sinplified Chinese character, Original Chinese character and Korean.
There is also an English interpreter on hand so you can visit with confidence even if you don't understand Japanese.
On weekends you'll find local craftsmen performing demonstrations on the stage who are eager to share their skills with you and will try to answer any questions you might have.
They set up authentic craft spaces and, in some cases, even let you try your hand at it.
Many craftsmen also have merchandise available on display that you can purchase if anything special catches your eye.
If you're in Japan for an extended time or have superb timing, the center offers hands-on workshops (approx. three times a year) where a local craftsmen will teach you firsthand (advanced reservation required).
The day we visited, a demonstration was put on displaying the intricately designed glass pen, first created in Japan in 1902.
All the visitors were invited to pick up the pens and try them out. Much to their amazement, once the pen was dipped in ink it seemed to last forever (or at least a page of writing).
A wide variety of colours and styles of glass pens was available for purchase, or just to be admired by anyone who happened to walk past.
The local craftsman was very helpful and provided visitors with as much information about the pens as he could. The pens are all made by hand and no two are alike.
If you're interested in learning more about the history and culture of Taito City this is a great place to start.
The bright open area on the first floor invites you to discover the world of traditional Japanese handicrafts filling your trip to Japan with unique memories that will last a lifetime.
The weekend demonstrations are highly recommended for those who prefer a hands-on experience and as every weekend has a demonstration by a different craftsman each visit offers a new experience.
Link to "How to get Edo Taito Traditional Crafts Center"
Follow us on Facebook!
https://www.facebook.com/Taito-Masterpieces-of-Tokyo-1406394746118924/
This article is current as of September, 2017.
Please check the latest information before visiting.
Address:22-13, Asakusa 2-chome, Taito-ku, Tokyo
Tel:03-3842-1990
Business hour:10:00am-6:00pm
Regular holiday: every 2nd and 4th Tuesday
※When the day concerned is a holiday, the next day
※There is change of opening day, opening time by circumstances
Traffic access:
· 2 min. walk from Toei bus "Oku Asakusa"
· 5 min. walk from Tsukuba Express Line "Asakusa Station"
· 15 min. walk from Toei Subway Asakusa Line, Tokyo Metro Ginza Line, Tobu Line "Asakusa Station"
· 5 min. walk from East and West Megurin bus "Tsukuba Express Asakusa Station"
· 12 min. walk from South Megurin bus "Asakusa Kikusui Street"