TOUR

MEXT [ Japan and Germany Exchange Project ] German Labor Youths Tour

November 2017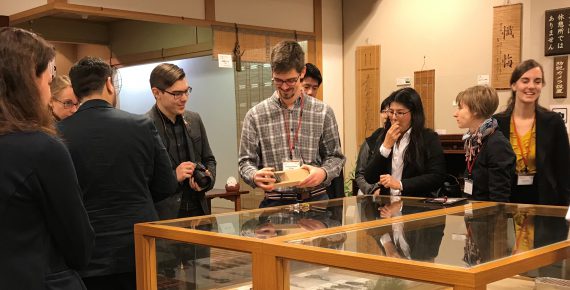 On November 21, 2017, we gave a tour to German labor youths. This was a project undertaken by Japanese and German governments to deepen understanding and goodwill between Japan and Germany and to promote the development of youth exchanges, with the aim of developing field trips at relevant organizations in both countries. In other words, it was an exchange project to share opinions between the two countries.
This time, twelve labor youths from Germany visited us with the theme of "traditional skills" in mind.
Firstly, we talked about the industries in Taito Ward with the ward manager at the Edo Shitamachi Traditional Crafts Museum.
We gave the group a tour of the building, explained how to make crafts, and how the crafts are used. The German craftsmen were very interested in the Japanese kanna, a hand tool used for shaping wood with muscle power.
Next, we toured the workshop of an Edo bamboo screen artisan where they could feel the studio atmosphere. The artisan talked about "the importance of handing down skills", as well as the commitment to the craftsmanship. The group had many questions for the artisan such as, how to acquire the raw materials and how many days it takes to complete a bamboo screen.
There were also times where members could try making the bamboo screen, with the professional artisan guiding them.
Through this tour, you can see that an interest in Taito Ward's traditional handicrafts is increasing even abroad. In Taito Ward, we will continue to spread the charm of the area's traditional crafts through these various opportunities.