Edo Kiriko [ Cut Glassware ]
Ojima Eiji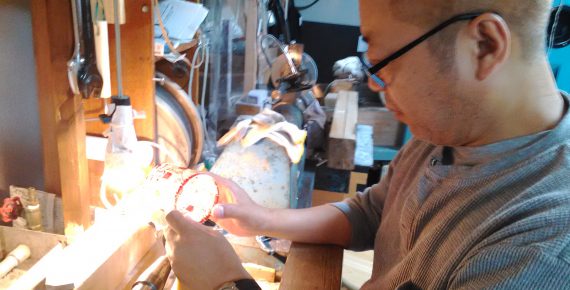 Mr. Ojima Eiji is an Edo Kiriko glass cutting craftsman. Following his father's footsteps, he inherited his family's business the 3rd generation down. Edo Kiriko craftworks are manufactured at a ˚Kiriko cut glass studio "Asakusa Ojima" and sold at the "Asakusa Ojima" shop on Dempoin street. In the past, they had sold it through wholesale dealers, but now directly selling at their own shop these days. There are many kinds of Edo Kiriko craftworks such as glass, plates and more. It can be used as tableware and from its beauty, a big plate can also be decorated for ornamental purposes.
It is said that the origin of Edo Kiriko was in Tenpo eras of the Edo period, when Kagaya Kyubei, a merchant who ran a glassware shop, created a design on glass was brought over from overseas. Distinctive features of Edo Kiriko are soft curved lines that gives a taste of the Edo period and various other designs.
An Edo Kiriko craftsman's work is to cut and curve a pattern on glass for Kiriko cut glass that acquires from a glass blowing factory. Firstly, starting with "Waridashi" which is drawing a pattern outline on to the glass. Next is a process called Arazuri which is starting to grind into the glass. Pressing the glass on a diamond wheel and curve lines that will become a main line. There is no detailed design templates, the artisan creates this by using experience and intuition. Moreover, with the Nibankake and Sanbankake process, the artisan gradually makes more details and refines the grinded line than the first Arazuri by using a fine grinder. Then comes to Ishikake (whetstone grinding) process which uses the most finest whetstone grinder. Finally, after applying a polishing agent and polishing it with a wooden grinder, use a felt and brush wheel to polish until it's completed.
At the studio, there is also a Kiriko Hands-on class that is held and you can carve your own pattern onto a clear plate of glass.
(Elementary and High School Students 2700 yen, Adults 4860yen)
Hands-on Experience Events
Kiriko Kobo Asakusa Ojima
Asakusa Ojima 4-49-7 Asakusa, Taito-ku
TEL:03-4285-9664/FAX:03-3875-6771
Regular holiday:No scheduled holidays
※For inquiries Japanese only