Edo Sudare [ Slatted Blinds ]
Tanaka Koutarou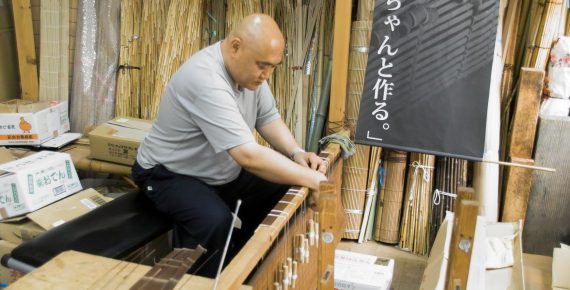 Tailored for small items such as a blindfolds, partitions, as an inner hanging bowl as a bamboo shoot, a shoji, a screen, a wind scroll, a buckwheat debris, a lunch mat and more. "Edo soda Tanaka Shureisho" which has been manufacturing since the early Meiji era. Kotaro Tanaka a fifth generation craftsman, about 30 years old and a qualified Tokyo traditional craftsman.
First cut the bamboo, wash it, break it and scrape it into pieces. Dry and then weave it. Finally, complete it by cutting and decorating it to make it the length of the bamboo uniform. Because every step takes careful attention to detail, it may take about a year to complete some orders. Edo-ken mainly receives orders from ordinary households. Nonetheless, it seems that some people has a little difficulty adapting to the conventional sizes due to changes in lifestyles.
Although we use domestic materials, it is difficult to get bamboo due to changes in the environment such as aging of craftsmen who cut bamboo, producing a difficult situation. Meanwhile, Tanaka cherishes information gathered with other crafts workers involved in the work. Because of the shortage of craftsmen nationwide, formerly the craftsmen at the edge of Kyoto that gathered bamboo died and the gathering discontinued, and resulting closed businesses. The existence of successors for craftsmen and the connection with other craftsmen is very important information.
Tanaka's work was displayed on overseas television programs and the internet, it seems that there were foreigners who came all the way from their home countries to see Tanaka's work.
"For foreigners, old-fashioned rustic designs are favored, I would like to keep making authentic items, which respects the Japanese traditions rather than incorporating new ideas," Tanaka said.

short version(1min35sec.)

long version
If you would like to know more about the craft history, manufacturing process, tools, etc., please check this movie.(8min27sec.)
Hands-on Experience Events