The trial lesson of Edo Sudare
(Place mat)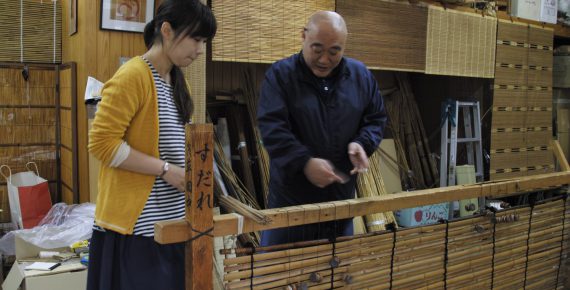 This time, I joined the trial lesson of making a place mat in ''Tanaka Seirenjo'' that founded in the beginning of Meiji period. Mr. Tanaka Kotaro, the 5th generation, would teach me today.
At first, setting the ball for knitting on the work bench and Mr. Tanaka showed me the example.
Moving the ball with a string away from your body and moving from back to front is how to knit Sudare.
Let's get started! Put a prepared cut bamboo on the stand and knit it one by one.
Put bamboo together tightly without gap and knitting again and again.
Keep on knitting this work until using up the eighty prepared bamboos.
Even if you try to knit straightly but it will be curved, so Mr. Tanaka will check it and help you sometimes.
Take out the string when it's getting shorten.
When you finished knitting all bamboos, Mr. Tanaka will help to tight and cut the strings so it will not get loose.
And then he will regulate the curved part.
Mr. Tanaka knits up to fifth row from the front. Only a pro could do that! It's straight!
As you can see, it's curved little bit which is knitted by beginner.
The next, draw the line to cut and even up both ends.
Cut and even up by big gardening scissor for the finishing.
First, practicing at out of line which I drew.
And let's begin! I was at a loss because the scissor is very big, but if you don't cut it at once, you can't cut and even up! Make up my mind and let's cut it.
It's completed!
It seems simple, but the knitting Sudare is profound. I was impressed when I saw the beautiful Sudare in the atelier.
I tried making chopsticks before, so I will use this place mat with that!
Thank you very much, Mr. Tanaka!
The trial lesson fee: 3,000 yen
Tanaka Seirenjo
1-18-6 Senzoku, Taitō-ku
TEL:03-3873-4653
Regular holiday:No scheduled holidays