Edo Bekko [ Tortoiseshell Products ]
Akatsuka Akira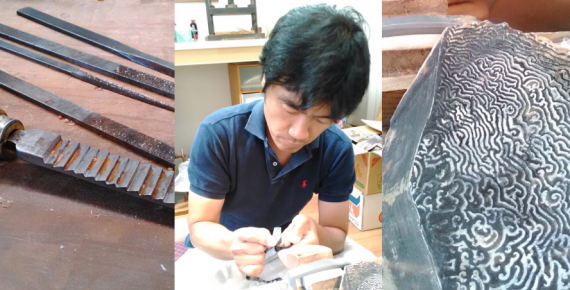 Tortoiseshells are a traditional craft made from the sea turtle's shell, belly, and nails made of these materials, cut out with a thread saw to increase the thickness, then crack or add heat to shapes, polishes and finishes of your liking.
Akasuka Vektor Manufacturing Co., which Akasaka Akira is a tortoiseshell craft worker, mainly processes tortoises into accessories such as glasses, necklaces and earrings. So we sell glasses to wholesale specialty shops. We sell accessories at our workshop. Especially because the demand for eyeglasses is great, and it seems that there are many times that the demand outweighs the supply by a large amount.
The tortoise shell is a natural material, so it feels good, while the color is also good. Especially glasses are lighter, making it easier to adapt to wearing them. Even people with metal allergies can benefit from tortoise shells, and if they get broken, they can be repaired by just bending or bonding it back together with heat, so that they can be used for a lifetime.
A major problem for craftsman is that the raw materials can not be imported for more than 20 years. The import of Taimai was forbidden in the Washington Convention, and the price of existing sea tortoise are soaring so it is difficult to obtain. Operating a sea tortoise farm in Okinawa, Ishigakijima, but it seems that we have not yet gotten to a practical level of application.
Mr. Akatsuka is the second generation, but he was not originally a craftsworker, he entered the workshop after finding employment. Akatsuka says that it was a good experience. "I think that craftsmen are persistent, that they do not compromise, and that anyone can do it."
AKATSUKA BEKKOU SEISAKUJO