The trial lesson of making
tortoise shell accessories
AKATSUKA BEKKOU SEISAKUJO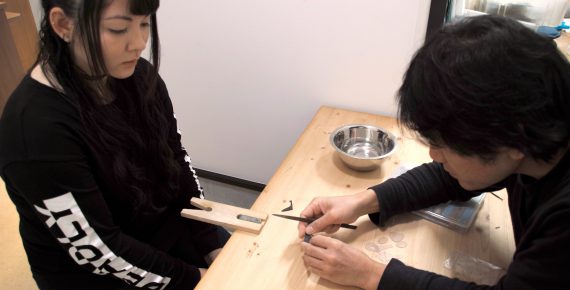 Mr. Akatsuka Akira who is second generation of Akatsuka Bekkou workshop which is established in 1980. He taught me how to make accessories.
At first, set up 'Suridai' for shaving or filing the tortoise shell on the stand for trial.
Next, choose a shape what I want to make from prepared one. You can make original one by yourself but heart or star shape looks easy to make, you have to shave an angle sharply. So a shape of gentle curve is suitable for trial. I chose a shape of leaf.
Craftsman marks based on a shape on the plate of tortoise shell before cutting.
And then cut along the mark with a scroll saw.
At the beginning, the teeth of saw doesn't work well but you can cut easier when you find the tip.
Actually, holding the tortoise shell is harder than cutting because it was very small…!
After finish cutting, let's file it.
At first, use a rough metal file. And the next, use a paper one and make it smooth.
A lot of fine dust comes out but it is safe if you breathe in because the tortoise shell is natural material. A turtle shell used as a material of Chinese medicine or Yakuzen tea even today.
The craftsman did the finishing to use a buff at the back of room.
Also use a rough and fine one. It became very shiny after buffing!
I realized he has shiny nails at this time. I asked 'Do you also buff your nails?' and he said 'It is shiny but it became thinner because of buffing.'
Moreover, the tortoise shell is very thin if only one piece. So they paste multiple pieces together with water, heat and pressure.
At this time, it doesn't fit together if they have oil with their hands. So they doesn't use hand cream. They suffer with dry skin in winter.
Back to lesson and attach metal fittings of accessories to shiny tortoise shell.
You can choose from key holders, Netsuke or pendant heads.
I chose the pendant head!
He attached for me and it's all done!
Cutting was very difficult but I had a fun! I will use carefully!
Thank you very much Mr. Akatsuka!
The trial lesson fee: 3,000yen
(※Exportation of the tortoise shell is prohibited.)
AKATSUKA BEKKOU SEISAKUJO
7-6-7 Yanaka, Taitō-ku
TEL:03-3828-7957
Regular holiday:No scheduled holidays