EVENT

Exhibition of traditional craftsmen in Taito Ward

2023/9/10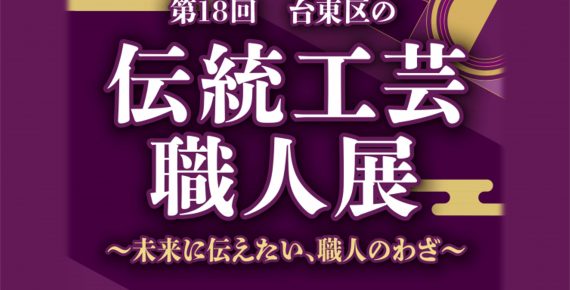 Taito Ward has prospered since the Edo period as a town for the common people and as the birthplace of Edo culture. Even today, the shrines and temples from the Edo period, the chic and insane character of the town, and the traditional industries cultivated by craftsmen still retain the vestiges of Edo. It has the best remaining historical sites and culture in Tokyo.

We are holding the "Traditional Craftsman Exhibition of Taito Ward" to introduce the craftsmanship that creates "genuine" craftsmanship that has been nurtured and handed down in the history and climate of this downtown area.

Date: September 26th(Tue) - October 1st, 2023 9:30-17:00 (admission until 16:30)
Venue: Tokyo National Museum Heiseikan Lounge (13-9 Ueno Park, Taito-ku, Tokyo)

*This exhibition is free, but a designated viewing fee is required to enter Tokyo National Museum.