EVENT

Edo Taito Traditional Crafts Center, 3rd-anniversary renewal campaign!

2022/2/20-2022/3/6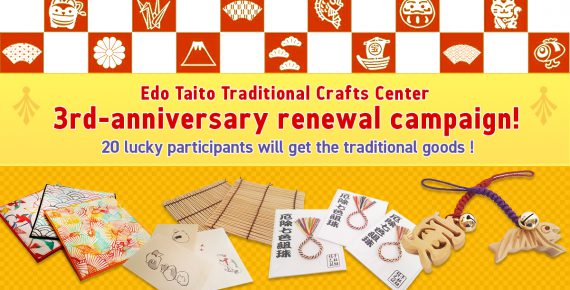 20 lucky participants will get the traditional craft goods !
As an expression of gratitude towards the loyal followers of Taito Masterpieces of Tokyo, and as a welcome to our new fans, we have prepared a small gift!
To participate, simply post the item name or/and a picture of your favorite traditional craft in the comments of the Facebook post! (and like this post), and you will automatically enter into the campaign.
◆ Entries accepted from 2022/2/20 to 2022/3/6.
◆ Prize: The traditional craft goods for 20 lucky winners  *Color and design is random
◆ How to participate:
During the campaign period, follow this account and like one of the campaign posts.
Taito district Traditional Crafts Official Account – Taito Masterpieces of Tokyo
https://www.facebook.com/Taito-Masterpieces-of-Tokyo-1406394746118924
◆ Announcement of winners/shipping of prizes
Announcement of winners scheduled for 2022/3/15
Shipping of prizes scheduled for 2022/3/20
◆ How to Sign-up:
 During the campaign period, please either "like" this Face-book page or the article of the campaign.
*If you have already "liked" our page before, please "like" the article regarding the campaign!
If this is your first time coming across our account, please hit "like" on both our page and this post!
*If you have any requests or would like to share your opinion, feel free to leave a comment below as well!
◆ Announcement of Winners:
・On the day of the announcement, winners will be contacted and informed by us.
・For those of you who have been selected as winners, we will be messaging you and getting in touch with you through this account. Please double check your settings so the messages we send will go through to your accounts.
◆ Conditions to Sign-up:
In order to join this campaign, a Face-book account will be required. If you access inappropriate pages and/or accounts, or sign up for this campaign through multiple accounts, you will be disregarded and made ineffective from the campaign immediately as it does not follow our guidelines.
◆ Notice:
・This campaign is not associated to or conducted by Facebook.
・For those who have signed up to this campaign, a message will be sent from this Facebook account (Edonotakumi Taito). Please make sure that you can receive messages from us. After you receive a message from us, please contact us with details regarding where we can send you the prize.
・If you do not respond within 7 days of winning the prize, you will no longer be able to receive the prize and a new winner will be selected. In addition, if there is an error in the home address or false information is provided to us making it difficult or impossible to contact you, you as the winner will lose the right to the prize. This includes comments regarding commerce and/or sales, comments that promote criminal acts, comments that invade one's privacy, and/or comments that are deemed inappropriate by the office conducting this campaign.
◆ Exemption:
・We are not responsible for the errors that may occur on your Face-book, internet service, computer, or any other devices. In addition, we cannot be held responsible for any issues that may arise as a result of a comment uploaded on a Face-book page by a user and/or third person.
・This campaign may finish without warning.
◆ How We Handle Private Information:
・The private information that we receive from users on the page will only be used for sending the prize to winners. Other than these reasons, we will not use your private information nor share your private information to third parties (unless we are requested to do so by law enforcement).