Tokyo Shamisen [ Three-Stringed Japanese Musical Instrument ]
Horikomi Yasunari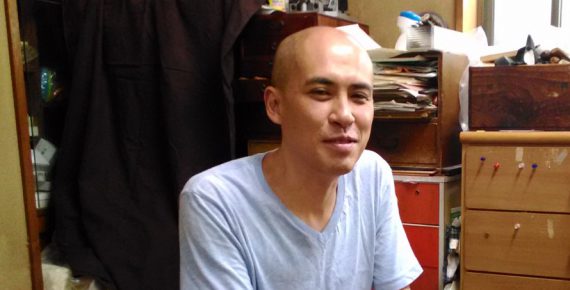 Yasunari Horikomi makes Tokyo's Shamisen as the 5th generation craftsmen at the Kikuoka Sangen Ten doing business for about 400 years.
He was not told to succeed from his father, but Hori said that he liked the work place since childhood. Although this work has its ups and downs, it was suitable for his father, and then he took over the family business.
When making the shamisen, First divide the part of a pole into three, and join it together while making "Tenon" and "Groove" with sawtooth. Next, on the inner side of the torso part, apply the "Ayasugi carving". This is an important process that determines the sound of the shamisen. After that, the "Copper attachment" to bond the materials together, "Skin coverage" will continue.
In recent years the Shamo folk song boom was pretty much a shamisen circulation, but now the polarization is progressing, the difference in the amount of work is fierce by craftsmen. The shamisen players are aging, there are few people to follow, so it is unlikely that there will be new shamisen made, and the repair work is the main. In addition, there are materials prohibited from imported by the Washington Convention, therefore, obtaining the materials needed is very difficult for making shamisen.
Hori belongs to the Tokyo Japanese Music Institute Industry Association that is spreading the Tokyo Shamisen and Tokyo Koto as well, and is also making efforts to spread the word on its beauty. At the Edo-Tokyo Museum, the organization has been holding events for each year for more than 20 years, which allows craftsmen to watch the scenery of making instruments closely and actually play the musical instruments.
"I think that the sound of the shamisen is Japanese, it is a sound that is in Japan, I hope young people also try out the workshop-like opportunities, and I want to spread the knowledge of the shamisen more widely," says Hori.