Edo Hyogu [ Paper Mountings ]
Ishii Hiroyoshi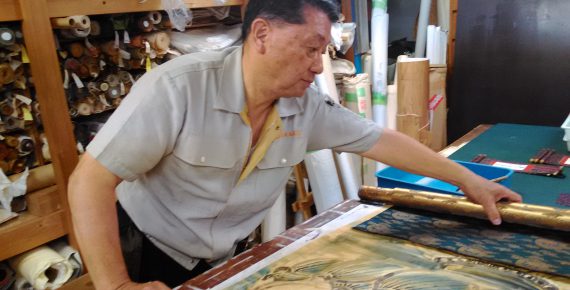 Hiroyoshi Ishii, the 15th generation owner of the Ishii Sandayu Hyogu Workshop, is an Endo Hyougu craftsman. Being the oldest son of the Ishii family, he was involved with this kind of work since he was a child. This workshop is an old mounting shop that was established more than 350 years ago. His son, Takahiro, is also doing his best as the 16th generation.
Hyougu has many kinds of works such as scrolls, "Makimono (Rolled-up Scroll)" and "Kakejiku (Hanging Scrolls)", "Byoubu (Folding Screens)", "Wagaku (Japanese Picture Frames)", "Fusuma (Sliding Doors)"
Each piece of work uses materials such as Japanese paper, fabrics like Orimono (Woven Fabric) and Tanmono (Fabric Roll for Kimono), water and glue which are simple but needs advanced skills when using with a brush to spread the water or glue on the paper by hand.
In the recent years, flooring and carpeting have become popular due to the change of life-style, the Japanese-style rooms that use tatami mat has been becoming more rare. However, Ishii is still making hanging scrolls which are decorated in the Tokonoma (Alcove), Frames, and also items with different forms that can adapt to different uses, even if the place is not a Japanese-style room.
"Even if you say Fusuma to young people today, they wouldn't know what that means" said Ishii. We are preparing art work to display at events for introducing hanging scrolls and folding screens. For example, since Fusuma (Sliding Doors) are made by laminating papers for many layers, it seems to do a filter's duty which is absorbing the moisture in the air and the throwing it out. A mount made by traditional methods has been the hidden beauty that can't be seen with normal eyes.
Ishii is also involved in the restoration of Japan's historical and cultural properties. He plays an important role when doing restorations for hanging scrolls, folding screens and mounts, such as pictures on partitions, which are stored and displayed in public buildings, temples and private houses and more.
Ishii Sandayu Hyogu Workshop (Established in 1652 )
5-4-5 Higashiueno, Taitō-ku
TEL:03-3844-6224
Regular holiday:Sunday
*March-April、June-July、the 3rd Saturday from September to November
※For inquiries Japanese only