Edo Hake [ Edo Brushes ] Tokyo Teue Brush [ Handmade Brushes ]
Kobayashi Makoto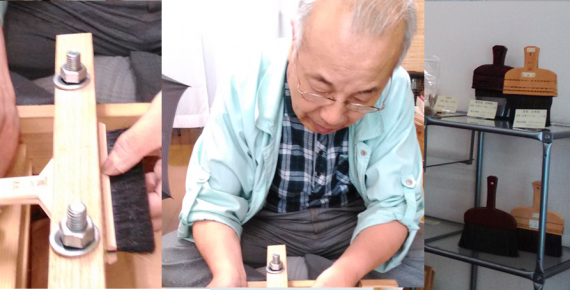 Makoto Kobayashi of the Kobayashi Brush Factory is a craft worker of the Edo brush. There are brushes for various uses, but Kobayashi mainly makes the tooling brush used for mounting works such as hanging scrolls, Fusuma (Papered Sliding Doors in Japanese Homes) and more.
Kobayashi's brother is the owner of the Kobayashi Brush Factory in Narashino City, Chiba Prefecture, and Kobayashi himself makes and sells brush at a store located in Ikehiro, Taito City. Brushes are used not only by mounting craftsman but also for restoring old art works. Students from Tokyo University of The Arts, which is very close to the workshop, as well as guests from overseas, come here seeking brushes. It seems that some foreigners are coming to Japan and buying brushes for the purpose of restoring Japanese artworks in museums in their home countries.
Edo brush craftsman are on a downward tendency, and the number of workshops making mounting brushes in Tokyo has already gotten to the point where you can count each one on your hand. With his brother's workshop in Chiba, his son is willing to succeed the workshop, but the next generation is uncertain.
In making Edo brushes, first, you sort out the natural hair used, such as horse tail, goat, pig and so on, then boil it to straighten it out. After dried, adjust the hair according to the use, remove the oil content, align the hair length, attach the hair to the handle after the ball is attached, and then the finishing.
There are also several types of mounting brushes, brushes for glue painting are made by using horse or raccoon hair, brushes to stretch wrinkles after pasting on Japanese paper on mounting are made by using goat hair, water brushes are made by using deer hair.
In the past, you pasted the back of a book one by one, and at that time, you can attach only 20 sheets of paper at once with a normal brush, but with Kobayashi Brush Factory's brush, you can paste 30 sheets of paper at once, it was Kobayashi's father that created this technique. Kobayashi said that this is what made him proud the most.
A Hands-on Workshop Experience for things like school trips are possible by consultation in advance. We accept only class sizes of 6 to 8 people once or twice a year.