Edo Shikki [ lacquerware ]
Inada Junichi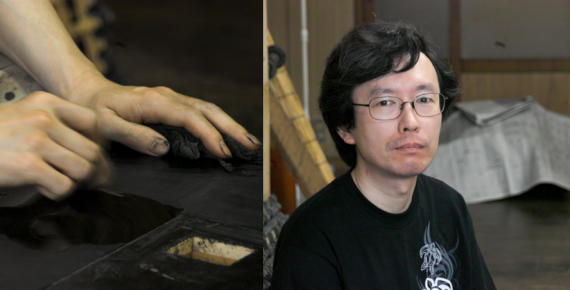 Junichi Inada is an Edo lacquerware crafts worker, but he does not work on things such as instruments or chopsticks that people generally assume, but a craftsman who undertakes the creation and repair of large items such as shrines and Buddhist objects. The Edo lacquerware business was founded in around 1947, Mr. Inada is the third generation.
After the war, Mr. Inada's grandfather gave rise to the production of lacquerware as the demand for the lacquered wares were needed. Originally working on wedding furniture, but due to the sharp decline in demand for lacquerware in general households, he focused most of his attention on handling large lacquer work. Requests for repairing shrines come from all over the Japan, from the Kanagawa prefecture and Chiba prefecture and the neighboring prefectures, and large shrines are brought to Mr. Inada's workshop often. There is a long track record of the carriage of the Imperial Household Agency, the shrine of the three company festival in the latter half of the 1990's, the hexagonal shrine of the Kanda Myojin, the octagon of Tsukuda's Sumiyoshi shrine, and the rest of the Kawasaki Daishi.
Edo lacquer ware is painted with mixed ground powder (rough sand) and lacquer mixed, then painted with a mixture of finer sand, water and lacquer called abrasive powder (grinding powder), as a base. Coat the lacquer as an intermediate coat, dry it and use the water and sharpening stone to remove the unevenness. And finally, paint the fine lacquer as top coat and finish.
The surface of lacquer will dry more quickly when there is humidity (※ actually the lacquer does not "dry" but "hardens" to familiarize the surface). In order to shorten the time to dry, when applying the base, adding water to the lacquer is to raise the humidity and dry more quickly. On the contrary, during the rainy season, it dries from the soba painted and the workability is bad, so we use fine lacquer, such as using lacquer which slowly dries.