The trial lesson of
Edo Hand-drawn Lantern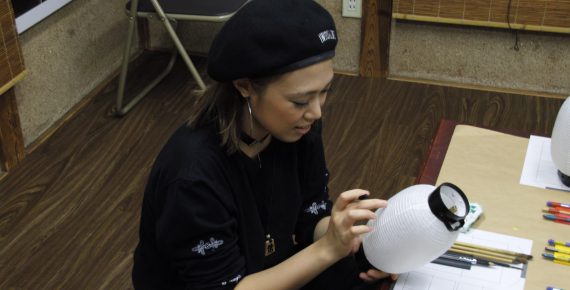 I joined a trial lesson of hand-drawn lantern which is held by Mr. Onda Shunji who is fifth generation of Oshimaya Onda was founded the store in 1854. You can paint whatever you want, so even school children, tourist can try easily.
 At first, they explain about Edo Hand-drawn Lantern and Edo character to us. After that we will start preparation. Put a mark of size of character on lantern when you decide what to paint. The third line of Takehigo (thin strip of bamboo) from top is beginning of the line. If you have 2 characters, mark on 16th. 3 characters, mark on interval of 10 lines.
 Write down the character with a pencil or calligraphy pen on a paper for draft. At this time, you need to be careful with shape of lantern and consider a balance of character. The lantern has rounded shape, so if you paint straightly, top and bottom would look shorter. Therefore, we paint widely to keep a balance.
 Paint characters lightly with a charcoal pencil when you finish to make a draft. Everyone will be confused by an uneven surface at first, but the paper is sturdy, so you can erase and paint again if you failed.
 Here goes the main part. Let's paint characters with an inked-brush. The key is turning lantern around while painting by one hand which is holding lantern. Surface is uneven because of Takehigo so it is difficult to paint a vertical line!
 Making characters thick little by little.
 You can paint a picture if you have more space. I have get used to it and I could paint easily.
I let it dry several times so that I don't get ink on my hands.
 Let it dry when you finished and making ink soft with steam so that can fold a lantern properly. Fold it once and open it again. It is completed if it is not broken!
 They told me a way called ''Bunmawashi'' to paint a family crest by compass!
 It was difficult to paint a circle and a straight line. You need to focus.
 Mr. Onda said ''you did great job for a first trial''. He praised me so much! Thank you for your help!
Ohshimaya Onda
2-6-6 Komagata, Taitō-ku
TEL:03-3841-2691
Regular holiday:Sunday, holidays
*Have special holidays"
*The guidance is available only in Japanese.
9:30~11:00,10:00~11:30,14:00~15:30
*Saturday will open in the morning only.