EVENT

"Instagram Photo Contest" is held now ! for "Edo Taito Traditional Crafts Center" renewal on March 2019

January 15.-Feburuary 28.2019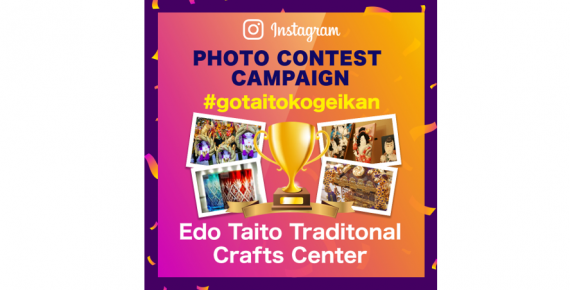 "Edo Taito Traditional Crafts Center" will renewal open from March 28th (Thursday), 2019 at 1 p.m !(Address: 2-22-13, Asakusa, Taito-ku, Tokyo) We are renovating the facility, enriching the details of exhibitions and will renewal opens the facility in order to publicize the charms of traditional crafts, make it easier to understand for lots of people. In commemoration of this, we will hold a photo contest‼
"Edo Taito Traditional Crafts Center" will renewal open from March 28th (Thursday), 2019 at 1 p.m !
(Address: 2-22-13, Asakusa, Taito-ku, Tokyo) We are renovating the facility, enriching the details of exhibitions and will renewal opens the facility in order to publicize the charms of traditional crafts, make it easier to understand for lots of people. In commemoration of this, we will hold a photo contest‼
Let's apply this contest by taking picture of your favorite traditional craftworks around you and post it!
Just take beautiful picture of traditional craftworks near you whether the one you are normally using or the one that you just bought and share your favorite picture on Instagram.
●Application Summary
Follow the official account and upload your favorite Japanese traditional crafts, use the hashtag, "#gotaitokogeikan" and post it! The prizes will be given out to the people with the best photos!
● Prizes
· Grand Prize: Chochin (paper-lantern) /2 persons
· Excellent Award:
Woodblock Prints / 3 persons
Tenugui(Japanese traditional towel) / 5 persons
● Application Deadline
February 28 (Thursday) 2019
● Application Requirements
People with their own personal Instagram account
●How to apply:
1. Follow Taito Traditional Crafts Official Account (@taito_masterpieces_of_tokyo)
https://www.instagram.com/taito_masterpieces_of_tokyo/
2. After agreeing to application rules, post a picture of traditional crafts taken by yourself, write comment and add hashtag #gotaitokogeikan on Instagram.
※1: Submitted pictures not taken by the applicant himself or herself will be invalid.
※2: For applying this contest, applicants need to follow official account and use hashtag as mentioned above.
※3:Applicants can post pictures as many times as they want during the period but the prizes will be giving only one per person.
※4: The pictures posted after the application deadline will be ineligible in this contest. Please be careful.
● Winner Announcement:
After carefully going through each post, we will announce the winners on the Taito_masterpieces_of_tokyo Official Instagram account around on March 20th. 2019. We will contact the winners through Instagram's direct messaging system.
*Please note that if there is no reply by the specified deadline, the win will become invalid.
*The shipping time is scheduled for late march 2019, but please note that the scheduling may change due to certain circumstances.
*The contents of the prizes are subject to change without prior notice. In addition, the winners of the Excellence Award are not able to pick their prizes.
*In the case of the prize shipment of this campaign, if the prize winner entered inaccurate or insufficient information, or if it was not possible to ship the prizes within the time period due to the applicant's change of address or long-term absence etc., the win will become invalid.
●About this Campaign:
This campaign is held to make lots of people feel familiar with traditional crafts industry, promote traditional crafts industry of Taito Ward and also create more chances for everyone to visit Edo Taito Traditional Crafts Museum. Therefore, please accept our apology that submitted works or prize-winning works might include industries, craftsman or traditional craftworks and more beside the traditional crafts that designated by public organization.
●Application Rules
By participating in this event you are agreeing to the following rules.
· Submitted entries are limited to photos in which the applicant themself owns the copyright.
· You cannot post works that infringe on the rights of third parties (copyright, portrait rights, etc.).
· If the entry contains people's faces etc., please upload it after the person in the photo consents to it.
· If you are not following the official account and hashtag, the entry will be invalid. Please be careful.
· Posted images and comments may be used on the official SNS accounts.
· Please note that not all works submitted will be posed on the official SNS accounts.
· To the winners of each prize, we will inform you of your win via Instagram DM (direct message). If you unfollow the official account or hashtag, or if you cannot be reached through DM, the win will become invalid.
· We are unable to answer questions regarding the selection and drawing results individually.
· This campaign is not organized, sponsored, or administered by Instagram.
· We are not responsible if users are unable to participate in this campaign due to technical problems or other problems with Instagram, computer, device, or internet service provider. We are not held responsible for the photos/comments posted on Instagram, or problems caused by users or third parties. In addition, this campaign may end without notice.
● Handling of personal information
· Any personal information you give will only be used for the prize shipment. We will not disclose/provide your personal information to third parties without your consent, except for companies that need to access the personal information. (Except when requested by public authorities for disclosure)